50 THOUGHTS ABOUT PHOTOGRAPHY
IN STORES STARTING JAN 19TH 2023
* British purchase:  £30. 00 inclusive of postage and packaging (P&P), delivery in 3 – 4 days
* European: £30.00 + P&P £13.49 (tracked) =£43.49, delivery in 3 days depending on the country's receiving postal system"
* USA: £30.00 + P&P £21.35 = £51.35 delivery in 7 days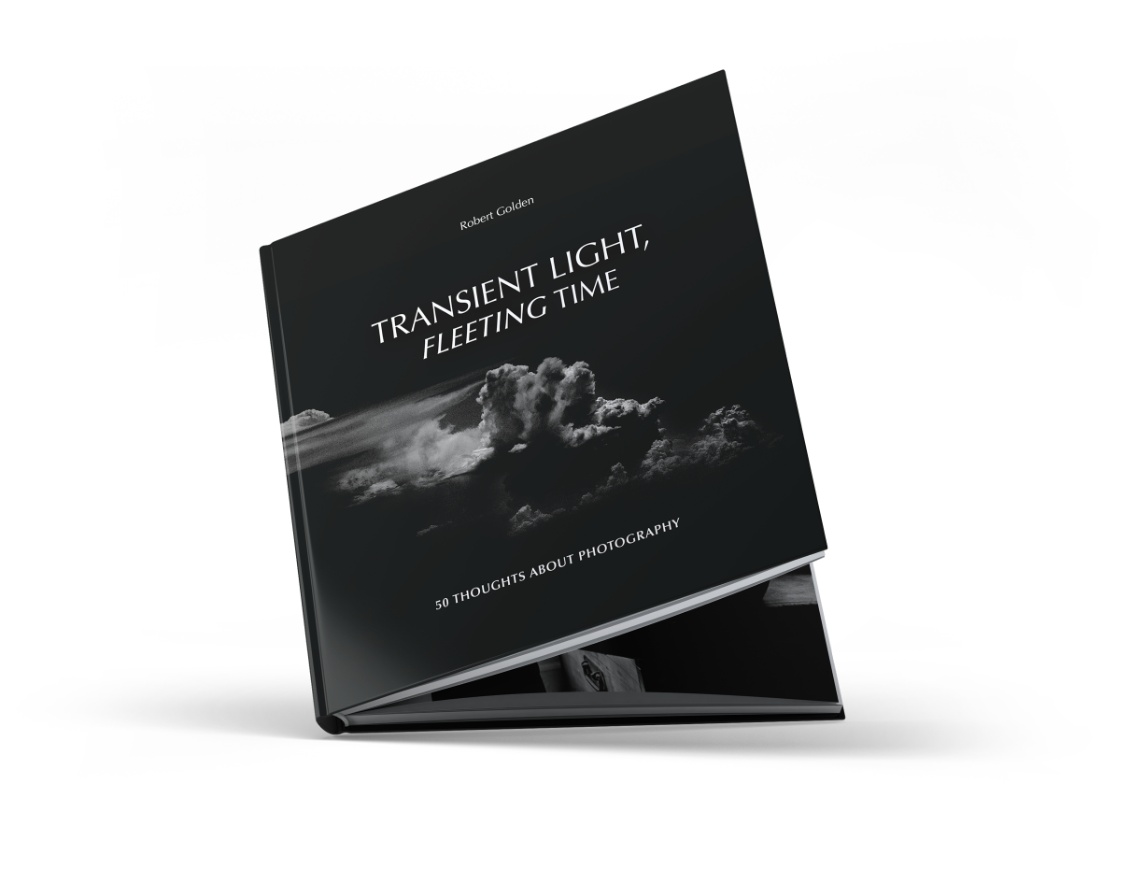 "I love the pictures and I really like the format- short pieces kind of riffing off" the pictures."
       Paul Cook, Centre for World Cinemas and Digital Cultures, School of Languages, Cultures and Societies University of Leeds
"Everything was wonderful… interesting…. clear…. insightful…. stimulating… beautiful… inspiring… educative. As a struggling artist / human being, I felt less alone reading Robert's words."
S.B. artist and film maker, Italy
"Rare among photographers of this stature, Robert Golden elegantly articulates the real and fundamental concerns that we face in deciding what to photograph, how to engage and what we're using our skills for. Impressively, he stays grounded as he writes, helped by a near-faultless selection of photographs drawn from his long career."
Michael Freeman,
one of the most widely published photographers worldwide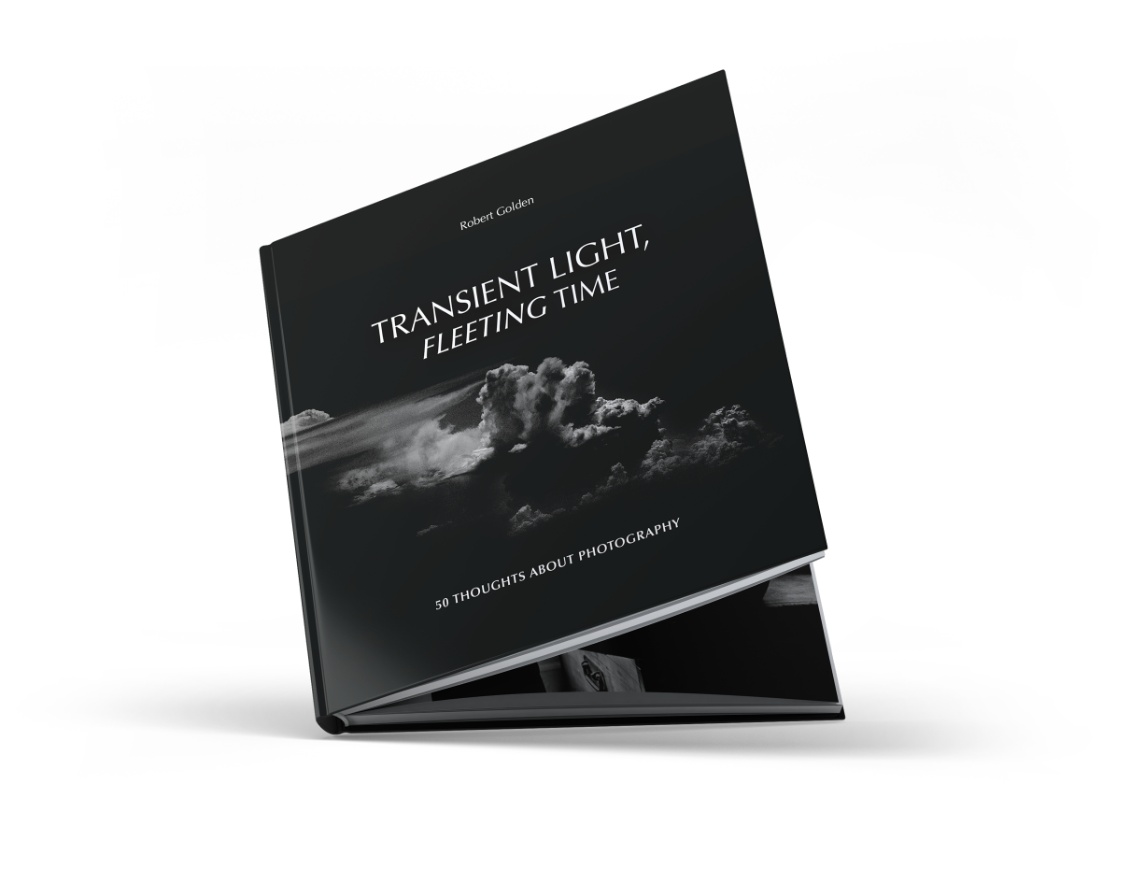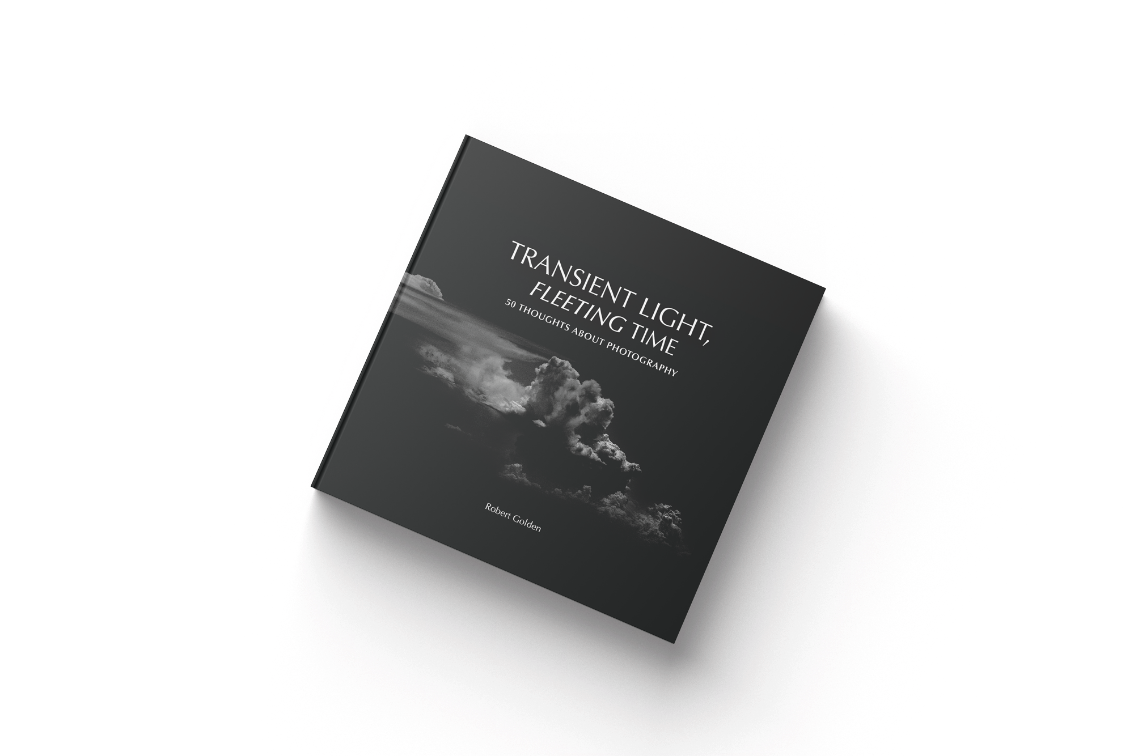 TRANSIENT LIGHT, FLEETING TIME
50 thoughts about photography
Is composed of:
• 50 essays of about 350 words each laid out across from
• a full page photograph
• and note about the picture itself.
The full-page images thoughtfully relate to the texts. They are not an attempt to illustrate the text but to ask questions about image-making .
There are portraits, landscapes, still-lives, and documentary images. The book is 112 pages, 218 mm x 218mm, bound to lay flat on opening.
Its natural audience are students of the medium including amateurs;
*it is appropriate for university level discussions and for advanced amateurs, and for those who appreciate the beauty of the medium.
It is entertaining and educative but not overly technical, appropriate for artists, writers and theatre practitioners of other media.
Use the left & right arrows to navigate.
TITLE AVAILABLE STARTING 19 JANUARY 2023
My life has been about making images on film (or now on digital media) and on video. I have thought, written about and taught the medium. I have worked at the highest professional levels of photojournalism, publishing and advertising. It seems that my teaching has changed the course of people's lives. The book will be available from the 19th of January 2023 at all major online book sellers book stores and some independent shops.
"Transient Light, Fleeting Time is a beautiful and wise book full of hope. It is a timely reminder of the combined power of story and image. Robert Golden uniquely seizes the world, and then presents us with many paths through the dark forest."
Jules Pretty, author of This Luminous Coast and Sea Sagas of the North, University of Essex
"Through his generous sharing of knowledge, experience and post-processing during the six lockdown workshops, Robert helped me clarify my own voice. Exploring the work of those who've gone before and studying the importance of every detail, he encouraged a confidence in our own unique vision. I celebrate the creative freedom to develop my own photographic stories."

"What Robert said about "photographers as storytellers being a messenger of reality, bringing gifts of understanding" has stuck with me. There's a poetry to it."

"For as long as I can remember, I have been invisible to the world. When I signed up to Robert's photography course I was expecting to learn how to use my camera in a technical sense; actually it became a whole new life, opening up a whole would of emotion, self-pride and direction that I didn't realize I had. The journey he took us through made me learn I DO have potential - one thing I was never told I had, that is one thing I believe has held me back."
IN STORES STARTING JAN 19TH 2023
* British purchase:  £30. 00 inclusive of postage and packaging (P&P), delivery in 3 – 4 days
* European: £30.00 + P&P £13.49 (tracked) =£43.49, delivery in 3 days depending on the country's receiving postal system"
* USA: £30.00 + P&P £21.35 = £51.35 delivery in 7 days
You can order the hardback of the book in the UK at the many places mentioned above and also at