Filling the Box – Part 1
£4.00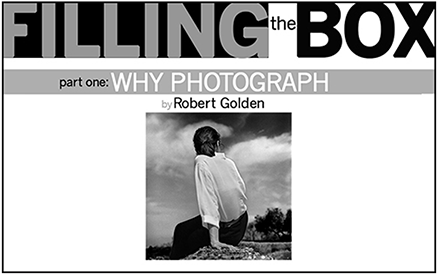 Part 1 explains the idea behind the title, the nature of observation, the limitations of the culture we live within, and the necessity to nurture curiosity and permanent questioning. It asks readers to examine why they photograph and places that in the context of art and society. It shows how discovering one's themes lead one to discovering what there is to photograph and goes into some detail about storytelling, themes, subject matter and content.
preview
The following pdf, composed of of numerous short essays based on the many workshops Robert has given, offers illustrated, thoughtful discussions about photography. For some, it may be a game changer, asking why do you photograph; what do you photograph when you have decided 'why'; and how do you photograph what you have chosen to honestly represent your ideas? It is ideal for serious students, amateurs and professionals.
Written by Robert Golden, an award winning, often-exhibited photographer, he offers thoughtful ideas not often expressed with such truthfulness and clarity. Robert uses pictures from his extensive output to illustrate his ideas.
* This book is only sold in PDF format, once purchase is completed you will receive a link to download the book. In case of any problems please contact me at robert@robertgoldenpictures.com